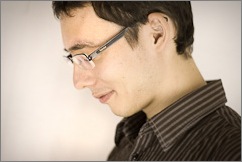 Rinat Abdullin is an international software engineer and practitioner for the distributed enterprise applications and cloud computing.
Professional interests and R&D subjects currently include: distributed systems, cloud computing, CQRS architectures, efficient software development and a bit of business intelligence.
Experience and research are continuously shared with the community in Blog on CQRS and Cloud Computing, various open-source projects and published learning materials (i.e.: CQRS Starting Point, Lokad.CQRS, xLim Body of Knowledge, Distributed Podcast).

Rinat Abdullin is Technology Leader in Lokad - company focusing on forecasting software and services being delivered on pay-as-you-go basis; winner of the Windows Azure Partner Award 2010 by Microsoft.
Привет! Тем, кто предпочитает общаться по-русски, сюда и сюда))
Contacts page contains all the contact information, should it be necessary.
If you want to know more, please, feel free to explore further. Here are some links for you to get started: