As you probably already know, Windows has just revealed a rather interesting offering, that extends Windows Azure:
Windows Azure platform appliance is a turnkey cloud platform that customers can deploy in their own datacenter, across hundreds to thousands of servers. The Windows Azure platform appliance consists of Windows Azure, SQL Azure and a Microsoft-specified configuration of network, storage and server hardware. This hardware will be delivered by a variety of partners.

The appliance is designed for service providers, large enterprises and governments and provides a proven cloud platform that delivers breakthrough datacenter efficiency through innovative power, cooling and automation technologies.
Companies like HP, Dell and eBay are already going for it.
Lokad is a small SaaS company offering forecasts as a service, yet I'm really excited about the possibilities offered by the Azure Appliance, as well.
You see, initially cloud computing offered small Software-as-a-Service (SaaS) companies chance to start playing on bigger fields, by providing scalable and cost-effective computing, storage and networking resources on demand. There was no need to invest up-front into the data-centers.
Of course, in order to benefit from the possibilities offered by cloud environment, architecture has to step away from the traditional N-tier solutions implemented with classical Request-Reply and SOA approaches. We need to shift our logic further into the messaging, async processing and CQRS solutions, while stretching CLAP constraints to their limits. That's how open-source Lokad.Cloud and Lokad.CQRS frameworks for Windows Azure were created.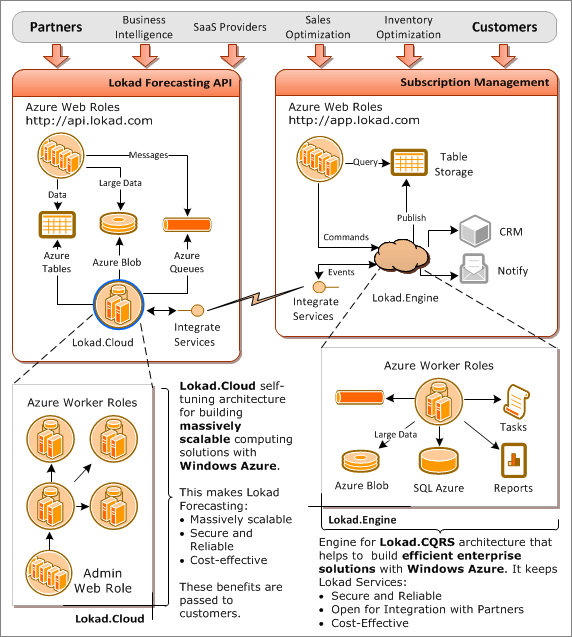 As I'm speaking, latest release of Lokad Salescast is processing input consisting of more than 500 thousands of series (products) and 3 millions values (sales) in a single dataset, that will be run through forecasting and composed into a report. This process will take a few hours, spawn multiple dynamically instantiated Virtual Machines (14 Windows Azure Workers for this case, to be exact) and finish successfully afterward with a nicely formatted BI Report. Of course, number of datasets per customer is unlimited.
In pre-cloud computing era such a project would've required quite an investment in resources (hardware, software and salaries) of a specialized IT company. I'm not even talking about the prohibitive costs and complexity of delivering such project within a non-IT company (costs outlined above, plus the burden of establishing sub-organizational structure for the project, getting the right people, going through all the R&D and paying maintenance costs ever since).
Cloud Computing made Salescast and other similar projects possible, giving SaaS resources and means to enter markets requiring large datacenters and teams of people to manage them. Offers like Windows Azure Platform Appliance potentially allow SaaS companies to go even further and start knocking on the doors of large companies that can't afford using the public cloud because they need to maintain physical control, data sovereignty and regulatory compliance.
Since the cloud computing elements of Windows Azure Platform Appliance are similar, compatible and share same development ecosystems, SaaS companies could easily deploy existing solutions into the private clouds of such large customers, as well. This creates rather interesting opportunities for a small companies and start-ups, while making life of existing market players - more exciting.
This article belongs to the Cloud Computing R&D Series within this Journal. You can stay tuned for the updates by subscribing to the news feed.
What do you think about Windows Azure Appliance and Cloud Computing in general? Are you excited or doubtful about the possibilities that they offer?